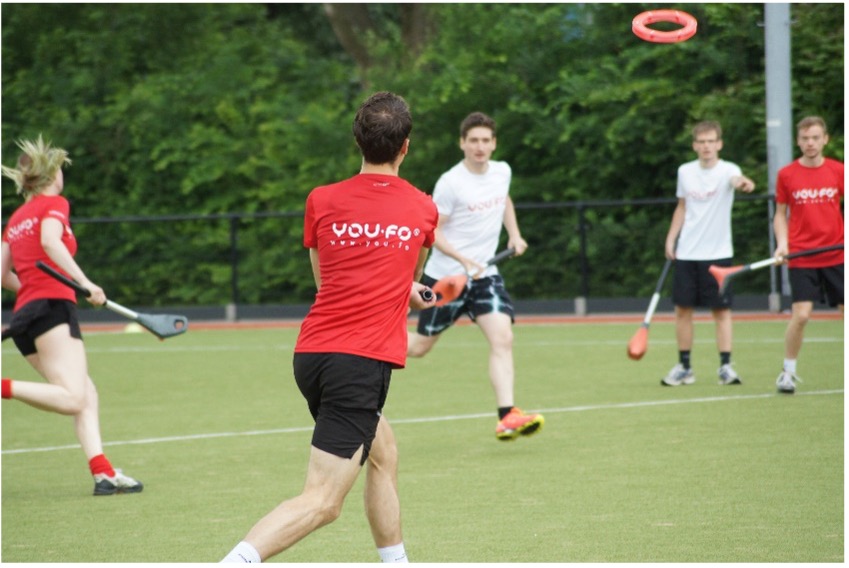 Besides American Football, Baseball, Basketball, Ice Hockey and Soccer, there are over 800 different sports played around the world. Around 200 are recognized sports with national or international federations. Who needs an extra sport you might ask? What if this new sport is based on research and developed in co-creation with the Dutch National Olympic committee, PE teachers and students?
The story of YOU.FO started with a rubber dog ring and a wooden stick, developed to a futuristic and highly innovative aerodynamic ring with a specially designed launching stick. In the development of the concept, research was conducted in which over hundreds of children participated on what they liked and disliked about existing sports games. This information was used to develop the rules of the official competitive team game, called YOU.FO Zone.
What is YOU.FO?
The official sports game is called YOU.FO Zone and can be played 3 against 3, 4 against 4, or 5 against 5. It is an invasion game, in which teams score by catching the aerodynamic ring in the opponent's scoring zone. The uniqueness of the concept, based on research, can be found within the rules: self-regulated (played without referee), non-contact and mixed-gender (inclusiveness) and you continue playing at all times (there is no out-of -bounds). If the ring isn't caught, each player can 'claim it', being the first one to tap their stick in the ring. Making it a fast-paced sports game, that only stops after a score. In addition, it is not allowed to walk or run while in possession of the ring. Insuring interplay dynamics and teamwork.
How to implement YOU.FO?
YOU.FO has three basic techniques: throwing, catching, and picking up the ring. For throwing there are variations, for example: forehand, backhand and overhead. When implementing YOU.FO, you always start by learning these three basic techniques.
For a fun and quick learning process, a full PE curriculum was developed in co-creation with PE teachers and students. This PE curriculum includes multiple lesson plans (for different grade levels), video tutorials (for different skill levels – beginner, intermediate and advanced) and it has a didactical and methodical structure (head-body-tail method), because this shows to be the most effective for a guaranteed successful, challenging, and fun learning curve for students. Each lesson is made up of warm-up games (increases excitement and prepares mentally and physically for your lesson), technique practice followed by challenges or mini games (competitive fun in couples of teams, without losing focus on improving competence and skill levels), finalized with an end game (the climax of your lesson in which students don't want it to stop, making them already excited for their next PE lesson).
All these lessons, including tips and tricks for teachers and FAQ's, can be found on a free accessible online community platform for PE teachers and instructors: YOU.FO World (https://world.you.fo/world/login/).
How to ensure safety?
When using a stick and a flying object in your class, ensuring safety is crucial. For this reason, it is possible to use safety gear (safety glasses or mouth guard), but it shouldn't be necessary due to the safety rules included in YOU.FO.
YOU.FO is played non-contact, but more importantly, players should remain arm and stick length distance from the ring possessive player, ensuring safe distance between players. In addition, a defensive player could block the ring possessive player (a tactical defensive move in which the ring possessive player isn't allowed to throw in the direction of the blocking player), ensuring safety for the player most close to the ring possessive player .
Webinar on May 17th
Be sure to attend the YOU.FO webinar on Wednesday, May 17th (8pm EST) to learn more about on YOU.FO and how to implement it. You will learn about the different types of YOU.FO equipment, strategies for implementation, and several activities that you can use with your classes.