Charlotte McLaughlin, PA Senior Entertainment Reporter
May 11, 2023 17:19
A director at Ofcom said the watchdog will be looking at GB News to see if the broadcaster is "behaving himself" following the channel breaching its broadcasting code with Covid claims for the second time.
Adam Baxter, director of broadcasting standards at Ofcom, was speaking at the Voice of the Listener & Viewer (VLV) spring conference on Thursday when he was asked about the recent ruling.
Mr Baxter explained why the watchdog did not fine GB News, saying: "I'm not expecting everybody to agree with us on that but our decision in this case was that the second breach has not reached that bar (on fining).
"Now, clearly, we will be seeing if in the future GB News behaves itself and we will be looking at any other such investigations and obviously, we are looking at all the evidence open to (us) in assessing compliance records."
The UK regulator said it was particularly concerned by guest Dr Naomi Wolf's "significant and alarming claim" that mass murder was taking place through the rollout of the vaccinations, which she repeated three times.
Ofcom previously said on Tuesday that GB News "fell short" of the requirement to protect audiences from potentially harmful content by "allowing Naomi Wolf to promote a serious conspiracy theory without challenge or context" on an episode of the Mark Steyn show in October.
Mr Baxter also faced criticism from professor of communications at the University of Westminster, Steven Barnett, who said Ofcom "has the power to act" in regulating impartiality on new broadcasters.
He said that the watchdog has been "dissingenuous in interpreting the act" in recent rulings.
Mr Barnett added: "Its own code and that would allow it much more flexibility to come down on those kinds of programs, quite clearly (are)….partisan, one-sided."
Replying to him, Mr Baxter said: "The audience expectations to GB News… which is a self-describing disrupter, focusing on a certain sort of agenda, would not be identical to a (public service broadcaster).
"A lot of these cases, I'm not pretending otherwise are pushing the envelope."
He added the watchdog has to be "very impartial" and they have to look at whether the broadcasters are the "right side of the line".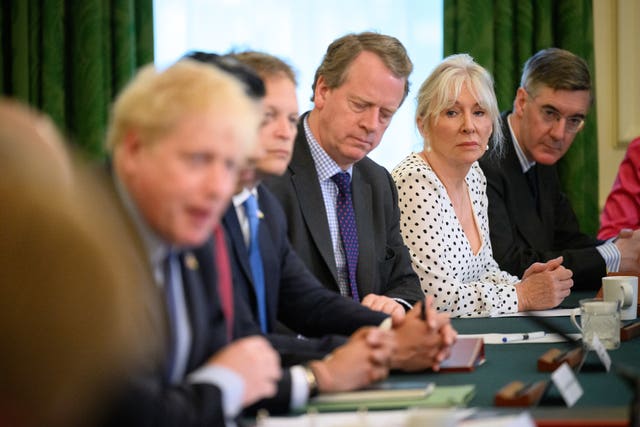 Mr Baxter also said: "The legislation does not prescribe what issues you shouldn't be covering…we exist in the context of our statutory duties, and balancing concepts such as freedom of expression."
He also said he had to be "quite careful" talking about whether having Conservative MPs presenting programs was against Ofcom rules due to "investigations".
Mr Baxter added: "These rules have existed for a long time.
"Indeed, the rule around presenters or politicians presenters….predated Ofcom."
The watchdog is investigating whether GB News breached impartiality rules by airing an interview between Esther McVey and Philip Davies and Chancellor Jeremy Hunt on March 11 ahead of the spring Budget.
Other MPs present shows including former culture secretary Nadine Dorries hosting a Friday night talk show for TalkTV, while Tory MP for North East Somerset Jacob Rees-Mogg is fronting a regular program for GB News.
Ms Dorries has said she will stand down as MP for Mid Bedfordshire at the next general election.
Elsewhere former head of political programs at the BBC, Sue Inglish, said the corporation "should have stuck to its guns" on impartiality after a row with Gary Lineker over his tweets.
The former footballer turned pundit was taken off Match Of The Day after comparing the Government's language used to promote its asylum proposals to 1930s Germany.
Ms Inglish said that the sports presenter was one of "very few people" at the BBC who was identified with its coverage and under the current guidelines he was "out of order".
She claimed the corporation was "hamstruck" in dealing with the issue properly as BBC chairman Richard Sharp was not able to properly defend the corporation's position.
Mr Sharp stepped down from his position after being found to have broken the rules by failing to disclose he played a role in getting then Prime Minister Boris Johnson an £800,000 loan guarantee.