Paris Saint-Germain have granted permission for Kylian Mbappe to speak to Al Hilal after the Saudi club's world-record £259m bid.
The French champions have put Mbappe up for sale and left him out of their squad for the pre-season tour of Japan and South Korea, having made it clear they only want to include players who are committed to the club.
Al Hilal's record-breaking offer is not the only one PSG has received. They have been approached with a mix of offers for Mbappe, including cash plus players, but Al Hilal has shown their intention by tabling the world-record bid.
PSG believes at least five clubs are interested in signing Mbappe, with Tottenham among them.
There is said to already be a "hot market" for the France captain, with the interested clubs including Chelsea, Manchester United, Inter Milan and Barcelona.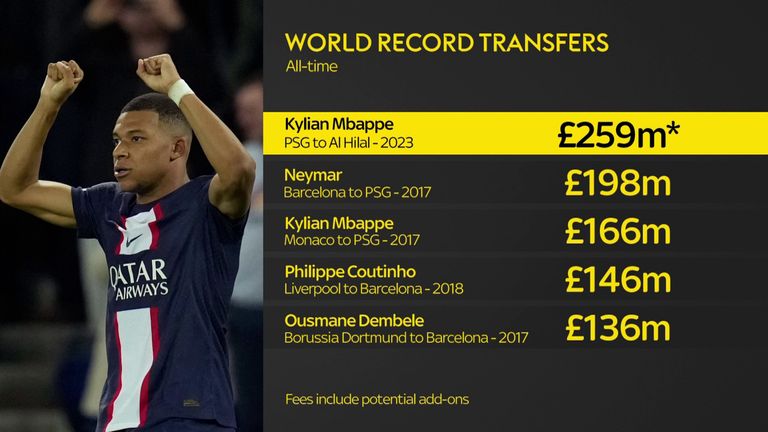 PSG will listen to any offer and all proposals to sell Mbappe, and if it was left to the French champions they would just sell him to the highest bidder, although other clubs will struggle to come anywhere near Al Hilal's offer.
The forward has one year remaining on his contract and is unwilling to sign a new one, with PSG believing he has already agreed to join Real Madrid for free next summer.
The 24-year-old will not play for PSG again if he does not extend his contract.
However, Real may now be tempted to make a formal bid for the player to make sure they don't miss out on him again.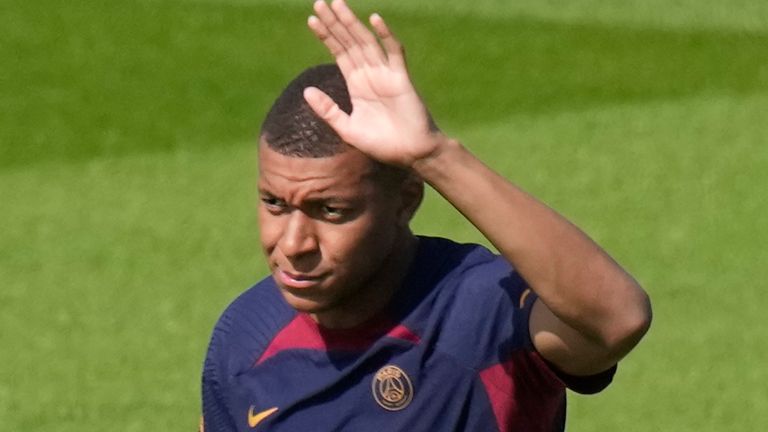 PSG are determined not to lose to Mbappe – who reportedly cost more than £150m when he signed from Monaco – for nothing.
Interested clubs have been alerted to the fact that PSG are even willing to loan Mbappe out for the season.
However, Mbappe is willing to dig his heels in, sit on the sidelines next season and leave for Madrid on a free transfer next summer.
The France forward will receive a loyalty bonus of £51.6m if he is still a PSG player on August 1, with his contract stating he is due to the bonus in instalments, subject to certain conditions.
PSG insiders are urging Mbappe to speak to Al Hilal, with the Parisians seeing a switch to Saudi Arabia as a win for all parties, especially if the player only moves for just one season.
Sky Sports News chief reporter Kaveh Solhekol explains why multiple parties could benefit from the Kylian Mbappe transfer saga

Mbappe would get his PSG loyalty bonus, Al Hilal signing-on fee and massive wages, as well as a "free transfer" move to Madrid next summer, when he would get a £160m signing-on fee, plus more massive wages.
Meanwhile, PSG would get some return on their investment in the player and the Mbappe saga would end, while Madrid would get the player they want next summer as planned on a free transfer.
In addition, Al Hilal and Saudi Arabia would get one of the best players in the world, even if for just one season.
What to watch on Sky Sports this week
Enjoy live action from F1, The Ashes, Premier League and more with NOW
Final Men's Ashes Test – July 27 to 31 – LIVE on Sky Sports Cricket
Premier League Summer Series – from July 23 – LIVE on Sky Sports Premier League
Belgian Grand Prix – July 28 to 30 – LIVE on Sky Sports F1
Stephen Fulton vs Naoya Inoue – July 25 – LIVE on Sky Sports Action
Seniesa Estrada v Leonela Yudica – July 29 – LIVE on Sky Sports Action
Netball WorldCup – July 28 to August 6 – LIVE on Sky Sports Action
Australia v New Zealand – July 29 – LIVE on Sky Sports Action
St Helens v Leeds – July 28 – LIVE on Sky Sports Action
Analysis: Will Mbappe be convinced to move to Saudi Arabia?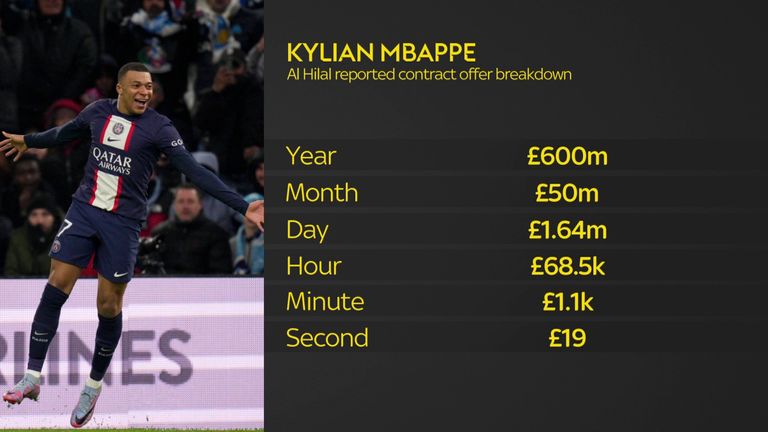 Sky Sports News chief reporter Kaveh Solhekol:
"It's all well and good the club gave Al Hilal permission to speak to Kylian Mbappe – but does Mbappe want to speak to Al Hilal? So far there have been no indications Mbappe is interested in moving to Saudi Arabia at this stage of his career.
"A lot of people are saying, 'he only wants to go to Real Madrid, Al Hilal and all these other clubs are wasting their time'. But these Saudis, the sovereign wealth fund and PIF are the same people who have effectively just bought golf. They just bought a whole sport, pretty much.
PSG captain Marquinhos has urged the club's board to resolve its dispute with Mbappe that has seen the star player put up for sale

"They're the same people who offered Tiger Woods $700m to sign up with the LIV Golf tour. If they can afford to spend $700m on Tiger Woods, who is certainly his best and approaching the end of his career, why wouldn't they throw enormous sums at Kylian Mbappe, who a lot of people would say is the best player in the world at the moment.
"There are some incredible numbers flying around. Some US outlets are reporting that Al Hilal is offering Mbappe something like €700m for one season and saying he can then go and move to Real Madrid. That is not something I've seen. All I know for sure is this offer was made from Al Hilal to PSG on Saturday for €300m."
Saudi Mbappe's interest was 'inevitable'
French football professional Jonathan Johnson:
"I think we can probably class this as being the best-case scenario for PSG, to be potentially receiving a world-record transfer fee from a club who could potentially offer Mbappe a lucrative amount of money over a short period of time – which wouldn't necessarily put up any hurdles when it comes to his future desire to play for Real Madrid as well.
"The fact that it would be a relatively short-term deal for someone like Kylian Mbappe is actually far more appealing than if it were a three- or four-year contract.
"I think it was inevitable at some point that Saudi Arabia was going to throw it's hat into the ring and at least make an attempt to try and prise Kylian Mbappe away from PSG, particularly given the way the situation has deteriorated, certainly over the last couple of days.
"PSG would accept this offer if the offer was firm and there is an indication that Kylian Mbappe would at least consider negotiating personal terms and hearing about this eye-watering proposition that Saudi Arabia would possibly make."
France's players' union threatens PSG with legal action
France's players' union has accused PSG of morally harassing Mbappe and threatened the club with legal action to protect the forward's rights.
A statement from the Union Nationale des Footballeurs Professionels (UNFP) said: "These players – all of them – must enjoy the same working conditions as the rest of the professional workforce.
"The UNFP feels it would be useful to remind managers that putting pressure on an employee – through the deterioration of their working conditions, for example – to force them to leave or accept what the employer wants constitutes moral harassment, which French law firmly condemns.
"So, yes, the UNFP reserves the right to take civil and criminal action against any club that behaves in this way."
Follow the summer transfer window with Sky Sports
Who will be on the move this summer when the transfer window opens on June 14 and closes at 11pm on September 1 in England and midnight in Scotland?
Keep up to date with all the latest transfer news and rumors in our dedicated Transfer Center blog on Sky Sports' digital platforms. You can also catch up with the ins, outs and analysis on Sky Sports News.