He has been a mainstay in the Manchester United goal for more than a decade, but is David de Gea's Old Trafford future now in the balance?
The Spaniard made a horrendous mistake to gift Said Benrahma a goal that proved to be the winner for West Ham on Sunday, damaging the Red Devils' hopes of finishing in the Premier League's top four in the process.
The 32-year-old has now made four errors leading to a goal in all competitions this season, the joint most of any Premier League player, along with Hugo Lloris.
In February De Gea said contract talks at Old Trafford would "end in a good way" and he was "enjoying it" – but for many fans and pundits this may be one mistake too many.
"If he's in contract negotiations, making mistakes like that is never going to help," former Liverpool, Tottenham and Stoke striker Peter Crouch told BT Sport.
"He's been a top-class goalkeeper over the years, but at the moment it feels like he's making big mistakes in big, big games.
"David de Gea has had a shocker, we can't dress it up. You can't justify it at all, it's a terrible mistake."
Former Newcastle and Tottenham midfielder Jermaine Jenas was equally critical, telling BT Sport: "That's beyond shocking. His team is in full control of this game and to let one in like that. He'll know himself."
Former Manchester United defender Rio Ferdinand added: "It's a bad mistake. He will take full responsibility for that.
"His left foot does slip slightly but that's no excuse, he's got full contact on the ball. It's not like he is stretching and getting fingers on it."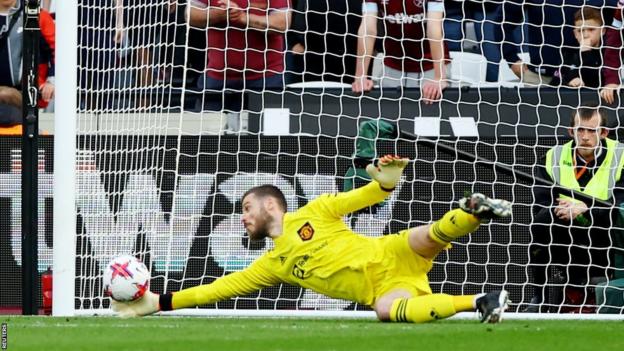 'Everybody has to take responsibility'
There is no doubting De Gea's pedigree. He has made more than 500 United appearances since arriving from Atletico Madrid in 2011, winning the club's player of the year award four times and lifting the Premier League, FA Cup, League Cup and Europa League trophies.
Unsurprisingly manager Erik ten Hag leapt to the player's defense, pointing out that he is in contention for the Premier League Golden Glove after keeping 15 clean sheets so far this season – two more than anybody else.
"Mistakes are part of football and in this team you have to deal with it and bounce back because it is a team sport," said the Dutchman.
"Over the season he is the one with the most clean sheets and also we did it as a team. It can happen, it's football but everybody has to take responsibility."
But with his contract due to expire at the end of the season mistakes like Sunday are unlikely to help negotiations and leave the Red Devils boss with a decision to make.
Ferdinand says it is De Gea's ability with his feet rather than any issue with his shot-stopping that may prompt Ten Hag to make a change.
"The question mark about him I think is whether he's good enough with his feet to play the Erik ten Hag way," he said.
"In terms of shot-stopping, he's made a mistake today – but that's not the area I question him. Is he a good enough footballer to play for Manchester United?
"The only person who can answer that is Erik ten Hag and we'll know at the end of this season."
Crouch added: "It's a strange one, because he's concerned about goals from his own mistakes but he's also kept the most clean sheets in the league."
'It really is time for United to move on from De Gea' – your views
Johnny: Honestly do not know what happened to De Gea this season. From a consistent Player of the Year contender to an even greater liability than Lloris in just one year. Renewing his contract now seems like one of the worst mistakes we could make.
Andrew: It really is time for United to move on from De Gea. His lack of quality distributing the ball is already at odds with what Ten Hag seems to want from his goalkeeper, and there are just too many errors in his game now.
Richard: In a game we have to win, De Gea is doing us no favours. Abysmal goalkeeping.
Seth: When we say De Gea is not good enough, this is just an example. The number of errors he made over the last few years, especially under Ole [Gunnar Solskjaer] and now under Ten Hag is incredible. There is no way he should be a starter next season if we want to move forward.
Calum: Sadly there's very little place for sentiment in sport if you're looking to build a winning team, so it's time for De Gea to go in my opinion.