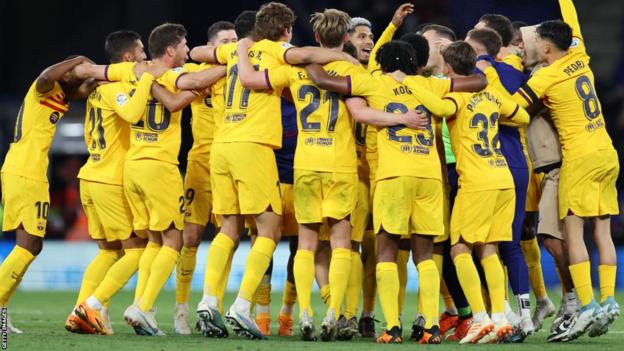 Barcelona wrapped up their first La Liga title since 2019 on Sunday with a victory at local rivals Espanyol.
But for a team that has just matched a 21st-century record by becoming champions with four games to spare, it has been an unconvincing campaign which, looking to the future, leaves more questions than answers.
Barca are celebrating the title with an unsettling sense of 'what next?' BBC Sport looks at the dilemma facing coach Xavi and president Joan Laporta in the coming months.
Another defensive reshuffle?
The main reason for Barca's title triumph is a phenomenal defensive effort – they have won 11 games with a 1-0 scoreline and, with just 13 goals against, they are set to smash La Liga's record of 18 goals conceded in a season.
That defensive excellence followed a major reshuffle in the backline, with impressive youngster Alex Balde displacing Jordi Alba at left-back, summer signing Jules Kounde proving his quality at right-back and another new arrival, Andreas Christensen, enjoying an excellent first season in Spain to help protect superb goalkeeper Marc-Andre ter Stegen.
But Kounde was originally signed as a central defender and the consensus is that his longer term future should lie in that position alongside Uruguayan powerhouse Ronald Araujo.
Indeed, Kounde has been filling in – for a whole season – at right-back because the squad's lack of other candidates for that position. Last summer's signing of Hector Bellerin worked out so badly that he was shipped out to Sporting in January after just three league appearances.
Recruiting a right-back, therefore, remains a priority, as it really has been ever since Dani Alves first left the club in 2016, and outstanding Girona starlet Arnau Martinez has been heavily linked. But that would mean breaking up a record-setting back four, and would also require something Barca didn't have: money.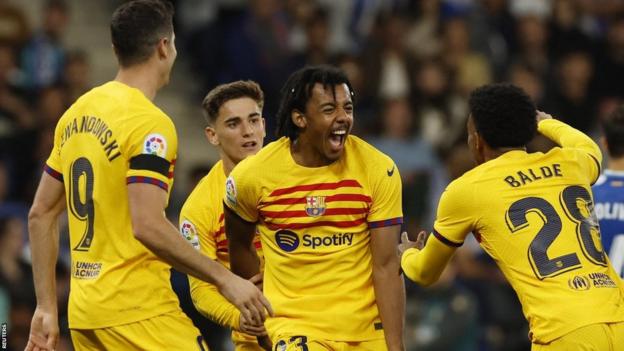 Midfield style to be defined?
Quite a few euros will be saved from the wage bill with the departure of club captain Sergio Busquets, who announced this week that he will leave at the end of the season.
But that also presents the obvious dilemma of how to replace a player who, despite increasingly obvious physical deficiencies, has remained an automatic first choice for Xavi and each manager before him.
Manchester City's out of contract captain Ilkay Gundogan has been widely tipped to join on a free transfer this summer, and his arrival alongside the excellent existing trio of Frenkie De Jong, Pedri and Gavi, and the additional options of Sergi Roberto and Franck Kessie, would leave the midfield well stocked.
The bigger question, though, is not 'who?', but 'how?' Barca's traditional midfield approach, heavily based on strict positional play, has looked out of place amid the more dynamic demands of modern football, and even the passing purist Xavi has compromised his beliefs this season by fielding four midfielders in a box shape to provide greater strength in the center of the pitch.
That has often led to a lack of attacking fluidity – hence all those 1-0 victories – and the challenge for Xavi is to implement a style that is more pleasing on the eye without losing the new defensive solidity on which their title win has been based . Busquets's exit might be the catalyst for a significant change of approach.
Messi is back, everyone else is out?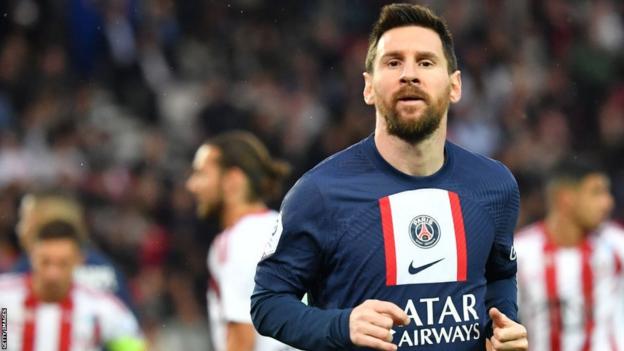 Ah yes, him.
The question of whether Lionel Messi should be brought back to Barcelona at the end of his mixed stint at Paris St-Germain hangs over everything else that will happen this summer.
The abrupt manner of his departure two years ago was unsatisfactory from everybody's perspective. So should the club's greatest-ever player be allowed to make a triumphant return and finish his career at his true footballing home? It seems an easy one.
But it isn't. Firstly from a pure sporting point of view, where does 36-year-old Messi fit into Xavi's demands for a high-tempo pressing game? This issue is heightened as he would be lining up alongside another veteran forward who has shown worrying signs of slowing down in recent months, Robert Lewandowski.
The financial aspect is even trickier. As things stand Barca will need to sell players, not sign them, to meet La Liga's strict Financial Fair Play rules, and even if Messi accepts a substantial pay cut he would still expect to be the club's highest earner.
To finance that, three players in particular look expendable: Ferran Torres has only made a modest impact since his arrival from Manchester City in January 2022, Ansu Fati has looked a shadow of his young self since returning from injury, and Raphinha has only been a regular starter when Ousmane Dembele – Xavi's first-choice on the right wing – has been injured.
So, if tempting offers are received, should Barca offload two or three of them in order to sign Messi? A summer of twists and turns lies ahead.
Behind-the-scenes uncertainty
The club's plans for the upcoming market have been thrown into further uncertainty by the sudden resignation of director of football Mateu Alemany, who has overseen Barca's signings and sales for the past two seasons.
The highly rated Alemany is believed to hold differences of opinion with club president Laporta over the transfer strategy, including his reported opposition to the recruitment of Messi, and looks set to take a similar role at Aston Villa.
For now, then, it's unclear who will be responsible for making and breaking deals during the summer window, with well-connected former star player Deco supposedly a candidate to replace Alemany at the end of June.
To complicate matters further, Barca are on the move: the Nou Camp will be closed for at least a year for extensive redevelopment, with home games played instead at the city's Olympic Stadium, which will first host summer concerts by Coldplay, Beyonce and Harry Styles .
It's an evocative and attractive old stadium romantically perched high on a hill overlooking the city center but – with running track included – seems unlikely to be an intimidating venue for opposition teams.
And the impact of their temporary stadium is just one of the uncertainties facing La Liga's new champions, even while the celebratory Cava is still freshly flowing.